Lahaul Spiti
Lahaul and Spiti are perfect locations for nature lovers and trekkers too. Located at an altitude of 3340 m in the northeastern corner, these are the two remote villages of Himachal Pradesh. Before these two districts were combined, the Lahaul capital was Kardang and Dhankar was the capital of Spiti. But now, these are spread over an area of 13835 sq. km and as per 2001 census, the total populations of these districts were recorded around 33,224. The breathtaking snow capped hills and the craggy beauty of these regions lure the travelers. Lahaul and Spiti are two isolated Himalayan valleys of Himachal Pradesh that lie on the Indo-Tibet border. A beautiful land of captivating Buddhist art and culture- Lahaul is distinguished by inflicting mountains and glaciers while the vegetation, climate and the landscape of Spiti are similar to that of Tibet. That's why the village of Spiti is also popular as 'Little Tibet'.

Holidays in Lahaul and Spiti offer pleasant experience whilst unfolding the stunning valleys of these places. In the year 1960, Lahaul Spiti became the districts of Himachal Pradesh that have a perfect combination of Hinduism and Buddhism. Both have their own specialty like Lahaul is blessed by nature and fostered by Chandra and Bhaga Rivers while on the other side Spiti is a living museum and there are breathtaking trek routes, valleys and very popular monasteries that captivate tourists who visit here from different parts of the world. Spiti is famous as the 'Land of the Lamas', and the Tabo Monastery situated here has been acknowledged as a UNESCO World Heritage Site and includes scriptures and wall paintings like Tankhas and Stucco.
Besides, a number of fairs and festivals are celebrated in Lahaul Spiti like Pauri fair, Ladarcha fair, Tsheshu fair, Tribal fair, Fagli festival, Gochi festival and Festival of light. These places boast of a number of must-see temples like Trilokinath temple and Mrikula Devi temple. Not only this, there are plenty of Monasteries in Lahaul Spiti including Tabo Monastery, Kungri Gompa, Guru Ghantal Gompa, Yang Yud Gompa, Sashur Gompa, Gemur Monastery, Dhankar Monastery, Kardang Gompa, etc.

Apart from the above, there are some great places to visit in Lahaul and Spiti like Chandra Tal Lake, Suraj Tal Lake and Dashir Lake, which delight every tourist and make them return here again and again. Last but not the least, a wildlife park- Pin Valley National Park is also the prime attractions for tourists and has a huge variety of rare animals like wooly hair, Tibetan Gazelle, and Snow Leopard.

However, Lahaul and Spiti are the famous attractions in Himachal Pradesh that offer a wonderful experience to all the tourists who visit these places. The lush green valley, the cold desert and the blend of Buddhism and Hinduism make Lahaul Spiti a worth place visiting in India.

So, relax in the tranquility of Monasteries, enjoy taking leisurely walks by the river Spiti, or indulge in some of the adventure activities like skiing or trekking as Lahaul and Spiti assure it all.

Adventure ActivitiesLahaul and Spiti captivates impresses upon the adventure enthusiasts to visit here as it houses the best treks and ski areas in the world. One may enjoy skiing, trekking, and river-rafting activities in this region. Some of the popular trekking routes in this region include Kaza-Langza-Hikim-Komic-Kaza, Kaza-Ki-Kibber-Get-Kaza, Kaza-Losar-Kunzum La and Kaza-Tabo-Sumdo-Nakorn fact, Grand Pin Parvati route is also recommended for trek leads to Chandra valley.

Day Itinerary:
Day 01
Dehli to Manali by road 15hrs.
Day 02
Manali site sean old Manali, clubhouse, Bashisht hot spring water, Nagger etc. Overnight in hotel.
Day 03
Manali to Lahaul 6hrs drive cross Rohtang pass (4200mtr) overnight in Keylong hotel.
Day 04
Drive to Trilok Nath and visit the temple and drive back to Chander Tal lake. Overnight Chander Tal
Day 05
Drive to Kaza 5-6hrs and overnight in Kaza hotel.
Day 06
Drive to key monestry and chitkul village and kibbar back to the hotel overnight Kaza hotel
Day 07
Drive to Tabo visit dankhar monestry and Parvati valley back to Cabo. Overnight to the hotel.
Day 08
Drive to peo kinnor. Visit hang village and Nako lake. Overnight in Peo.
Day 09
Drive to Shimla visit Sarahan temple and night drive to Delhi.
Day 10
Trip over.
Manali
Manali Leh Jeep Safari & Manali To Leh Bike Trip

Manali Leh Jeep Safari is the best way to explore Leh Jeep Safari Tour is counted among the best adventure experiences in the Land of High Passes. The adventure of riding your Jeep Safari through Ladakh calls for tourists from around the globe. Experience Ladakhi culture, a visit to Khardung La Pass, the highest motorable pass in the world along with a visit to Pangong and Tso, one of the most famous and breathtaking lakes in the world.

Get complete information about Manali Leh Jeep Safari Tours including Manali To Leh Trip From Delhi, Routes, Maps, Photos, Videos & complete Detailed about Jeep Safari. In India, jeep safaris are the best way to explore the rugged terrain, hilly terrain or any other off beaten track in India. Even by jeep safari tours, you can travel around the wildlife, forts Jeeps can take you to the interiors of a village or a town. Jeep safari tours help you in discovering those aspects of India that are hard to travel in any other mode of transportation. Experience world's most thrilling, scenic and adventurous with this 10 days jeep safari to Ladakah via Leh Manali highway.
Day Itinerary:
Day 01
Arrive Manali
On arrival Manali transfer to hotel. Day free, evening walk around the local market. Overnight stay at the hotel.
Day 03
Drive Keylong - Darcha Sarchu
Get prepared for the most interesting overland high altitude drive up to sarchu May takes approx 10 hours. You will arrive at Darcha ( 3500 Meter) is situated at the junction of Yotche Nullah and the Zangskar chhu which takes off from the Shinkun la. Both these nullahs meet with the main river Bhaga at this place. This is the main point for the trek lovers wishes to enter in Zanskar valley or up to Leh.

Your drive from this place will take to Baltacha Pass ( 1620 Ft) and further drive to Sarchu which is nearly the midpoint of Manali Leh route... Spend the night at this place and overnight.
Day 04
Drive sarchu to Tanglangla Leh
After breakfast drive back to reach to join Manali Leh high over Pang at Morai plains and climb at the top of Tanglangla Pass (5400m). stop for a while to witness an incredible view from the top and descend down by following Leh highway. Reach at Upsi by crossing river Indus and follow the highway up to Leh. Check in at your hotel and overnight stay.
Day 05
Departure Leh
Welcome to Leh. After breakfast drive to Hemis Gompa and on the way visit Thikse Gompa and Kali Devi Gompa and back to the hotel for lunch. After lunch takes rest in the hotel and then evening walk to the market or Shanti stupa spend few time and take a photo and by a walk back to the hotel. Overnight same hotel.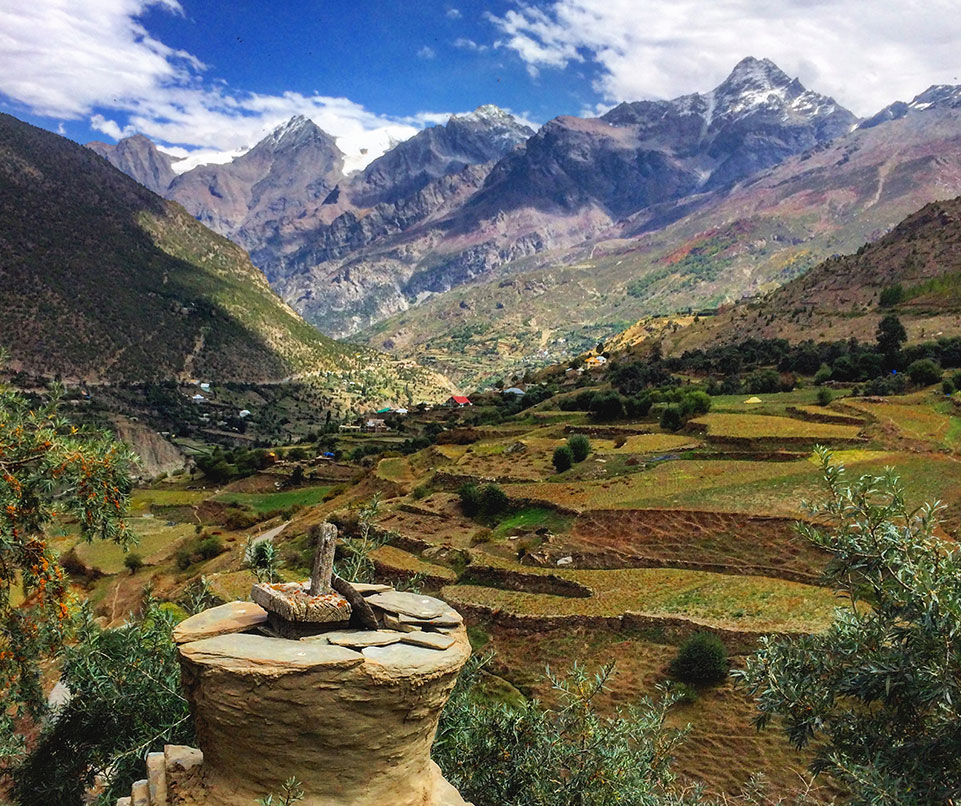 Dharamshala
The great Tibetan leader the Dalai Lama lives here and thousands of ardent travelers visit this hill station every day to enjoy its magnificent beauty!!! Yes, we are talking about the ever beautiful 'Dharamshala,' located in the scenic valleys of Kangra in Himachal Pradesh. This calm and serene hill station is situated at an average altitude of 1,475 meters above sea level and is surrounded by thick deodar cedar trees, snow-laden mountains, exotic culture, and quaint old monasteries. The presence of the great Tibetan leader Dalai Lama along with other Buddhist nuns & monks and several Tibetan Monasteries has made Dharamshala one of the most popular tourist destinations in India.

The picturesque surroundings of Dharamshala and the presence of great Buddhism culture make this hill stations one of the best in India. Also, Dharamshala tourism is at its peak during summer, when the temperature is at its peak. There are a lot of other attractions in Dharamshala like the charming St. John Church, headquarters of His Holiness the Dalai Lama, Dal Lake, etc. that draw tourist from different parts of the country.
Dharamshala is divided into two parts, Upper Dharamshala and Lower Dharamshala and both these regions have scenic landscapes, bungalows, churches, monasteries, and cantonment that are surrounded by the mighty Dhauladhar mountains. While holidaying in Dharamshala don't miss the glory of Tibetan culture, which can be seen and experienced through its monasteries situated here.

Your holidays in Dharamshala are incomplete if you don't visit Mcleodganj, a beautiful village located in the same vicinity as Dharamshala. This scenic hill station is small yet stunning with views of the magnificent Dhauladhar range and it is certainly one of the best places to visit in Dharamshala. One can get the best deals on Dharamshala holiday packages and visit the most awe-inspiring destination with family and friends to relish the moments spent here throughout the life.

Dharamshala is a beautiful hill station, which is bathed in the glory of mother nature and Buddhist culture. For an ardent traveler, this place is nothing less than a paradise, so pack your bags and start traveling to Dharamshala for the best holidaying experience ever.

Address :
The Mall Road, Keylong, L&S., Himachal Pradesh, India