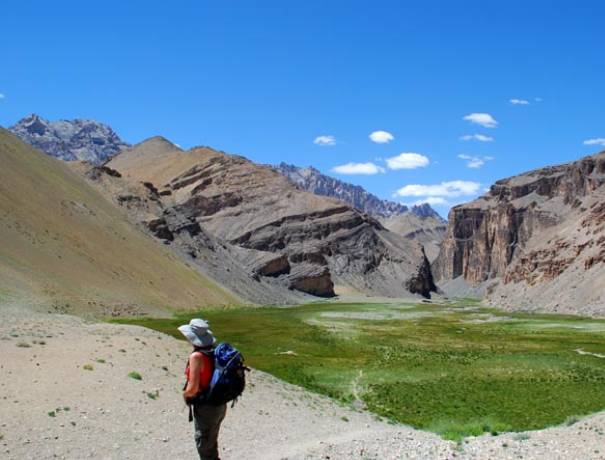 Dat Trek
Markha Valley is one of the most popular treks in Ladakh. To make the trek more interesting, we take a deviation from the traditional Markha Valley trek route which exits out of Kongmaru La and instead go behind the Kang Yatze massif and exit via the Zalung Karpo La pass. The trek concludes at Debring on the Manali - Leh highway at the base of Taglang La. The trek gives you a best of both worlds where you see the beauty of Markha Valley as well as the wilderness of Zalung Karpo La.

Day 01
Arrival at Leh
The flight takes us over the Greater Himalayas and makes an exciting landing at one of the highest airports in the world. Transfer to hotel. Overnight at hotel or guest house.
Day 02
Visit leh
Visit the famous monasteries of Hamis & Thiksey. Back to hotel for lunch. Overnight at same hotel or guest house.
Day 3
Drive to chilling1hrs and still walk skiu 3hrs
Morning after bfast drive to west along the Indus valley till Nimu, the confluence of Zanskar & Indus river. Turn south to follow the Zanskar river till Chilling. We have an interesting river crossing here on a cable trolley and walk is along a flat & desolate plain till past the village of Kaya. The valley narrows from Kaya and we get to Skiu shortly. Just before you enter the village, there is a small monastery on top of a rocky cliff.
Day 04
Skiu to markha 6-7 hrs
This morning early breck fast and pack to quickly and start walking. This is a long days walk but the trail to Markha is not too strenuous, rising about 300m across 22km, crossing the Markha river a couple of times. The landscape keeps changing as we climb and there is enough to keep one interested. Markha is a substantial village, complete with a derelict fort on the hillside and a small village monastery. Overnight Camp
Day 05
Markha to thachugse 5-6hrs
Kang Yatse (6400m), a magnificent snow-clad mountain commands the views for the next two days. A popular place to spot herds of blue sheep slide up and down the steep cliffs with incredible agility. Overnight Camp.
Day 06
Thachungse to base camp 5hrs.
You pass several mani (stones with prayer inscriptions) walls and suddenly come across a small lake. The view is wonderful from here - both of Kang Yatse, whose bulk gets reflected in the still waters of the lake, and also of the Markha Valley which we are now well above. Overnight Camp.
Day 07
Explore day or free day.
Today is complete free day or walk to ABC kung yatse and back to base camp over night tent.
Day 08
Basecamp to langthang chen 5hrs
The next four days of the trek are the most beautiful and we walk towards Kharnak valley which is not very often visited by trekkers. We traverse the slopes of Kang yatse mountain and the scenery becomes quite dramatic. We have the jagged mountains in front of us all the time while we walk on the rolling hill sides. After an initial uphill walk we skirt around the ridges to drop down to Langthang Chu.
Day 09
Langthang cxhen to zarung karpo la pass base 5hrs
Its an easy day and the main valley starts become narrower and the stream is smaller to cross which we have to do a few times. We camp at a grassy spot just before the pass. Over night tent.
Day 10
base to sorra camp site 5 hrs
It becomes steeper and as we reach the pass we realize that it was only a false summit. The trail goes further up theough a a scenery of rolling mountains. From the pass we see jagged rock pinnacles, typical of Zanskar range on the south while the Kang yatse massif lies behind us. It is a steep zig zeg descent to Sorra village which is quite deserted in the summers when the inhabitants take their livestock to higher pastures.
Day 11
Sorra to Dat 5hrs 4500mtr
We now follow the river in a dramatic & a beautiful canyon. The whole walk is quite magical as we have willows in the floor of the gorge and a clear stream running through. We finish the trek at the village which is inhabited by semi-nomadic herders. There is a small monastery in the village.
Day 12
Dat to drive to leh 5hrs
The drive takes us through the famous Manali Leh highway which we meet at More plains and we cross Tanglang La (5328m) which is amongst the top few high motorable passes in the world.
Day 13
fligh to Delhi.
Trip finished thank you.
What we'll give. What we won't
What is included in the tour:
All arrangements for staying and camping while on the trip
All transport in a non AC car as per the itinerary above
Accommodation on twin share basis with foam sleeping mats in tents.(all meals included)
Mules for porterage of personal and group luggage
Full board camping arrangements on the mountain with a large mess tent, tables & stools
Professional guide fee, wildlife fee and camping fees.
All trekking arrangements with India's most experienced guiding team, camp staff, cook etc.
GST as applicable (Subject to govt rules).
What is NOT included in the tour:
Sleeping bag, items of personal clothing and personal climbing equipment (extra pay)
IMF fees.
Expenses of a personal nature like laundry, insurance Beverages and snacks in Leh or tips for guides, cooks & porters
Any costs arising out of unforeseen circumstances such as bad weather, landslides, road conditions and any other circumstances beyond our control.
What makes this tour special
• 50% advance payment confirms your booking.
• We will transport all your belongings for you so that you only have to carry your daypack with camera, water bottle, and jacket.
• We serve three meals a day including snacks and drinks. We provide a variety of tasty healthy food including Indian, Chinese and Western meals with lots of vegetables and fruit.

Address :
The Mall Road, Keylong, L&S., Himachal Pradesh, India